TECHNOLOGY DEMONSTRATION

OPEN SEA TEST SITES

The European Marine Energy Centre (EMEC)
EMEC is the only accredited wave and tidal test centre for ocean energy in the world, suitable for testing multiple technologies simultaneously in harsh weather conditions. The Centre offers grid-connected test berths at two test sites – one for tidal and one for wave – and also has two scale test sites allowing smaller scale devices or those at an earlier stage of development to gain real sea experience in less challenging conditions.
2017 saw EMEC host six developers: UK-based EC-OG, Nautricity and Scotrenewables Tidal Power, Ireland-based OpenHydro, Netherlands-based Tocardo and Finnish wave developer Wello. Thirty devices from nineteen companies have now been tested on site at EMEC.
Scotrenewables Tidal Power commissioned their first full commercial scale machine, the SR1-2000 2 MW at EMEC. Following first power export in March the turbine quickly set a new tidal sector record, exporting at a peak output of 2.2 MW. The test programme demonstrated the low levelized cost of energy potential of floating tidal energy with all installation and servicing operations implemented with modest multi-cat spec'd or small crew transfer vessels.
The SR1-2000 was fully grid connected over the testing period and on average supplied the equivalent of 7% of the Orkney's electricity demand when generating and up to 25% for shorter durations. By the end of 2017 the turbine had generated over 1.3 GWh. Scotrenewables are also working on the next iteration of their technology – the SR 2-2000 – as part of the Horizon 2020 funded FloTEC project.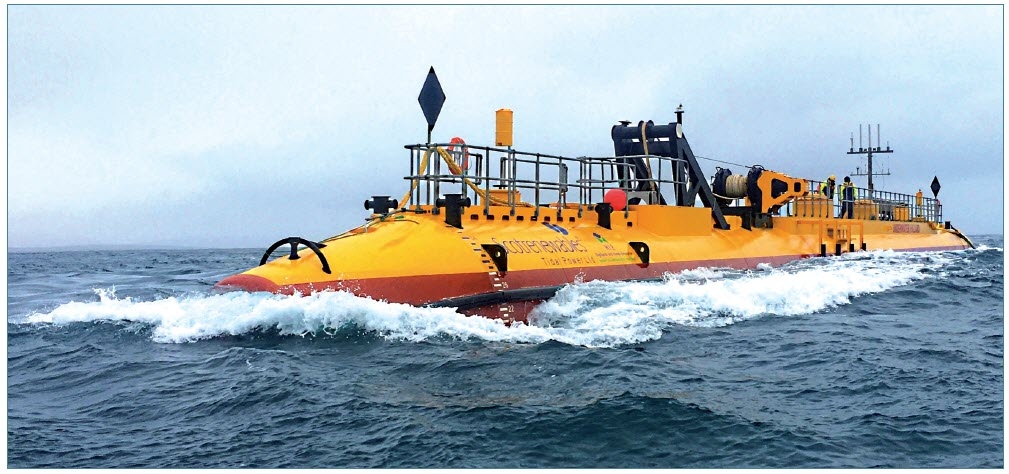 Scotrenewables Tidal Power SR2000 (Source: Scotrenewables)
Also testing at EMEC's tidal test site at the Fall of Warness were: Nautricity, testing their contra-rotating CoRMaT tidal turbine from April to December; Tocardo Tidal Power, testing their T2 tidal turbine from February to December as part of FORESEA; and OpenHydro, EMEC's longest standing client, who continue to test a 250 kW scale version of their tidal technology at EMEC.
In 2017, EMEC welcomed back Finnish company Wello Oy who initially tested at EMEC in 2012. Wello's 'Penguin' wave energy converter (WEC) was successfully installed by Orcadian contractor Green Marine in March as part of the EU Horizon 2020 funded CEFOW project, generating electricity into the national grid in April. The Penguin has remained on site since March, surviving numerous storms including wave heights of up to 18.7 m experienced during storm Caroline. As part of CEFOW, Plymouth and Exeter universities completed the first set of ecological surveys, which will be repeated over the following two summers to monitor the cumulative impact of multiple WECs on the seabed habitat and associated ecosystem. A further two Penguin WEC's are due to be installed at EMEC over next two years as part of the CEFOW project to demonstrate a wave energy array.


Green Marine install Wello Penguin at EMEC wave test site at Billia Croo (Credit Colin Keldie, courtesy of CEFOW)
Aberdeen-based engineering company EC-OG tested their Subsea Power Hub (SPH) system from April to November 2017 at EMEC's Shapinsay Sound scale test site. The SPH combines a tidal energy convertor coupled directly to a lithium based energy storage system, and has been designed to provide power to various subsea applications.
Wave Hub
Wave Hub is a pre-installed grid connected site approximately 10 nautical miles (16 km) off the north coast of Cornwall for the testing of large scale offshore renewable energy devices. The site has a Section 36 electricity consent and holds a 25-year lease for 8 square kilometres of seabed divided into four separate berths. Wave Hub is owned by BEIS and operated by Wave Hub Limited. In 2016 Seatricity installed their Oceanus 2 wave converter at Wave Hub and Carnegie Clean Energy confirmed that it intends to develop a 15 MW array of the CETO 6 wave energy converter at the Wave Hub site, planned to be installed in 2018. In 2017 GWave secured a marine licence for the installation of its 9 MW wave energy device, which is planned to be installed in 2018.
OPERATIONAL DEPLOYMENTS

MeyGen
The MeyGen array, operated by Atlantis Resources in Scotland's Pentland Firth, expanded the array to a capacity of 6 MW in 2017, completing phase 1A of the project.

In August 2017 700 MWh of electricity was generated by the MeyGen array, surpassing 1,000 MWh of generation onto the grid since project commencement.

Funding has been secured for another 6 MW of installed capacity in phase 1B. Full capacity across all phases is to be up to 398 MW.



First turbine MeygGen deployment (Source: Atlantis Resources)



Nova Innovation Shetland
In 2017 Nova successfully deployed the third 100 kW turbine of the Shetland Tidal Array, installed off the coast of Shetland, Scotland. The EnFAIT project will extend the array from three to six turbines and up to 600 kW.



PLANNED DEPLOYMENTS

EMEC
The FORESEA and MaRINET 2 calls in 2017 instigated a resurgence of wave and tidal developers planning test and demonstration projects at EMEC in the course of 2018. These include CorPower, Laminaria and Magallanes.


Nova M100 tubine, installed in the Shetland Tidal Array (Source: Nova Innovation)
Fairhead Tidal
DP Energy continue to progress through planning and consenting processes with a view to install a tidal stream array at Fairhead in Northern Ireland. The first phase is to involve 4 to 6 turbines with a capacity up to 10 MW and is planned to begin construction in 2018. The full scale array is likely to be in the region of 100 MW capacity.
West of Islay Tidal Park
DP Energy was granted consent in June 2017 for 30 MW of tidal energy development.
Westray South
DP energy took over the lease for the 200 MW SSE site and are looking to update the scoping for this development.
Katanes Floating Energy Park, Dounreay, Caithness
A floating wind/wave development 2.3 km off Dounreay in Northern Scotland Each floating semi-submersible platform would host a single wind turbine of between 5 and 8 MW and wave energy convertors of between 2 and 3.6 MW capacity, deployment would be split into two phases. A screening opinion was issued in 2017 and an application is expected in 2018.
Brims
Open Hydro have a 200 MW application submitted and being considered for a tidal development on the north side of the Pentland Firth.
Scotrenewables Lashy Sound
Scotrenewables Tidal Power are applying for consent to deploy a 10 MW array at Lashy Sound in Orkney, Scotland. This array will make use of Scotrenewables' floating tidal turbine concept.
Swansea Bay Lagoon
Tidal Lagoon Power Ltd. have plans to construct a 320 MW capacity tidal lagoon scheme in Swansea Bay, Wales. A Development Consent Order was awarded in 2015 and their application for a Marine Licence is currently being assessed by Natural Resources Wales.
Carnegie Wave Hub
Carnegie Clean Energy has entered an agreement to install a 15 MW array at the Wave Hub site in Cornwall, England, using their CETO 6 wave energy converter. Stage one commissioning is currently targeting 2018, to be followed by 12 months of operation.
Enlli Tidal Project
Nova Innovation has signed an Agreement for Lease with the crown estate to develop a 2 MW project in Bardsey Sound, North Wales. The project is currently going through the consenting phase.