OBJECTIVES

Task 1 focus on development of quality information products and effective communication mechanisms in support of the OES strategy. It further aims to provide adequate and accurate information to policy makers and other stakeholders.



COMMUNICATION ACTIVITIES

Task 1 aims at communicating the OES main findings trough the most appropriate communication channels. In this respect the following main communication actions were conducted throughout the year:


The OES website is the primary source of communicating the activities of OES, publications and general outputs of each tasks to a wider audience (www.ocean-energy-systems.org). It includes a restricted area for the ExCo delegates with information to be discussed in each ExCo meeting and repository of all presentations in meetings.

PROJECT DURATION

Start Date: 2000
End Date: Permanent


COORDINATOR
Ana Brito Melo, WavEC Offshore Renewables (PORTUGAL)


PARTICIPANTS
All Delegates


FURTHER INFORMATION
Visit OES Website - Task 1
PRESENCE IN RELEVANT EVENTS
Dissemination of OES activities has been an ongoing process, through the presence of OES representatives several events related to ocean energy. Table 4 lists the main events in 2017, in which the OES was represented.

Ocean Energy Conference at the Marine Energy Week, March 2017, Spain - Presentation of the OES International Vision
by the Spanish Delegate, Jose Luis Villate
TABLE 4: OES PARTICIPATION IN INTERNATIONAL EVENTS DURING 2017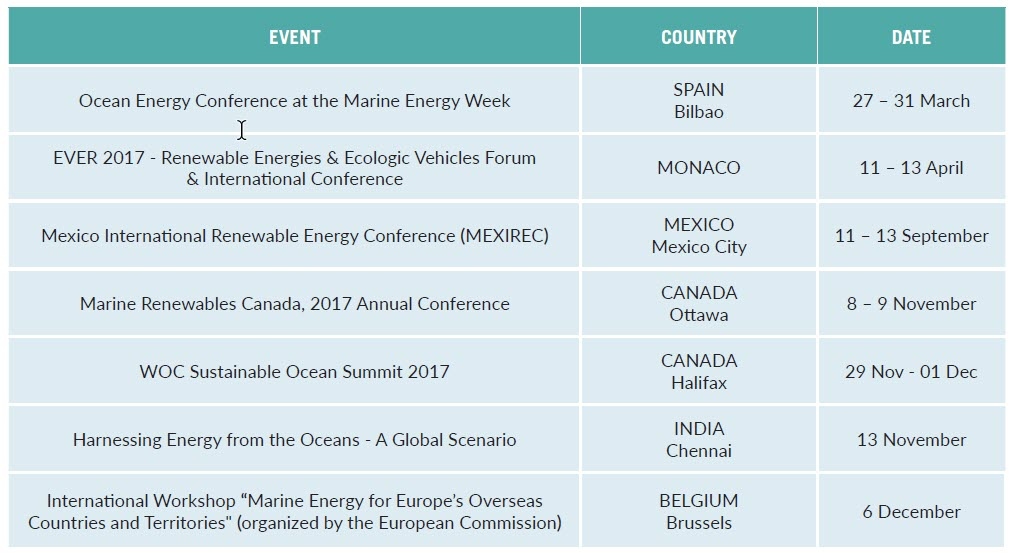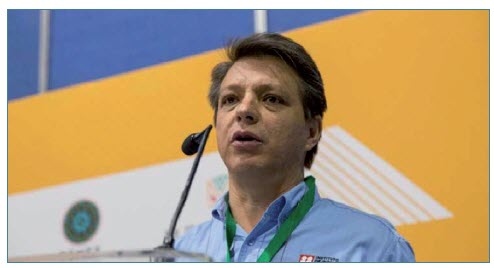 Mexico International Renewable Energy Conference, 11-13 September 2017
– Presentation of the OES International Vision by the
Mexican Delegate, Rodolfo Silva-Casarín
CLOSE LINK WITH ICOE
The ExCo has had an intimate link with the International Conference on Ocean Energy (ICOE) series, since its inception in 2006. Although there are other regional ocean energy conferences, ICOE is the only truly global ocean energy conference. ICOE conferences are held every two years and focus on the industrial development of ocean energy.

Past ICOE conferences have been held in Germany, France, Spain, Ireland, Canada and UK. In 2018, ICOE will be held in Cherbourg, Normandy, from june 12th to 14th in La Cité de la Mer (http://icoe2018normandy.eu/).
The International Steering Committee of ICOE includes the Chair or Vice-chair of the OES. Further several OES delegates are also members of the steering committee.
In particular, the OES hosts past ICOE conference material on a dedicated website managed by OES (www.icoe-conference.com), providing the historical archive of all papers from previous ICOE conferences.
The OES is also the organiser and supporter of a "student poster award" - three cash prize for the best three poster presentation at the ICOE conferences. Active students and young early-stage researchers are eligible for the poster awards.

COLLABORATION WITH INORE
INORE is a network for postgraduate researchers working with issues related to offshore renewable energy. The OES encourages this network and provides annual financial sponsorship for specific activities conducted by INORE, particularly to develop membership in new regions, including Asia and the Pacific. One example of supporting international collaboration work is the "International Collaborative Incentive Scholarships" (ICIS scheme), whereby pairs or groups of researchers from at least two different countries are awarded a small bursary to fund (usually travel) expenses that will allow a piece of work to be carried out at one of the group member's organisations.

More on INORE: https://inore.org/

COLLABORATION WITH IEC

International Electrotechnical Commission (IEC) Technical Committee (TC) 114, Marine Energy – Wave and Tidal Energy Converters: OES has a formal liaison with this technical committee to develop international standards for wave and tidal energy technologies. In 2017, Dr Purnima Jalihal, delegate from India on the OES Executive Committee has been nominated as the expert to coordinate, in particular, the collaboration with the working group "PT 62600-20 - General guidance for design and analysis of an Ocean Thermal Energy Conversion (OTEC) plant", on behalf of the OES.

Further, a number of ExCo members serve as project leaders or participants in some of the TC114 working groups. Some OES tasks can provide technical information for future standards.
In 2017 the OES was invited to collaborate with the Marine Energy Operational Management Committee (ME-OMC) of the International Electrotechnical Commission Renewable Energy (IECRE) System (http://www.iecre.org) with a focus on test laboratories involved in marine energy. IECRE is conducting work for conformity assessment of marine energy, wind energy and solar energy. The OES accepted to have a formal liaison with this committee and Jose Luis Villate, Spanish alternate to the OES, was nominated the contact person for this liaison.
PUBLICATIONS IN 2017
Huckerby, J., Jeffrey, H., de Andres, A. and Finlay, L., (2017). An International Vision for Ocean Energy. Version III. Published by the Ocean Energy Systems Technology Collaboration Programme; www.ocean-energy-systems.org

Quirapas, M., & Srikanth, N. (2017). Ocean Energy in Insular Conditions - a Workshop Report prepared on behalf of the IEA Technology Collaboration Programme for Ocean Energy Systems (OES); www.ocean-energy-systems.org

Wendt, Fabian, Yi-Hsiang Yu, Kim Nielsen, Kelley Ruehl, Tim Bunnik, Imanol Touzon, Bo Woo Namk, et al. "OES Task 10 WEC Modelling Verification and Validation" In Proceedings of the Twelfth European Wave and Tidal Energy Conference, edited by A. Lewis, 1197–1–1197–10. University College Cork, Ireland: EWTEC, 2017.