SUPPORTING POLICIES ON OCEAN ENERGY

NATIONAL STRATEGY
The Department for Business, Energy and Industrial Strategy (BEIS) retains overall responsibility for energy policy in the UK although powers related to planning have been devolved to the governments of Scotland, Wales and Northern Ireland. The 2017 UK Government Clean Growth Strategy states that ocean energy technologies "could also have a role in the long term decarbonisation of the UK, but they will need to demonstrate how they can compete with other forms of generation."
The UK government continues to offer revenue support to a variety of renewable energy technologies through the Contract for Difference (CfD) programme. Based on top-up payments to a strike price, CfDs offer long-term price stabilisation and are awarded via competitive auctions. The second round of auctions, worth £290m per annum, opened in April 2017 with results published on 11 September 2017. Strike prices of £310/MWh for wave and £300/MWh for tidal stream were quoted for projects due to deploy in 2021/22 in the BEIS 2017 Draft Allocation Framework. Bids for wave and tidal stream CfD allocations are made in competition with other "less established technologies" in a pot that includes offshore wind and biomass. The auction results were considerably lower than the draft administrative strike prices, with offshore wind projects gaining CfDs with strike prices of £74.75 for 2021/2022 and £57.50 for 2022/23. As yet, no wave or tidal projects have been awarded a contract for difference. The Clean Growth Strategy and Budget confirmed that the £557m remaining in the former Levy Control Framework would be allocated to further CfD auctions to 2020, with the next auction anticipated for early 2019. This announcement does not mean the UK Government is ruling out support for any particular technology, including tidal, now or in the future.
UK Contracts for Difference for less established technologies: Draft strike prices and Auction results (£/MWh):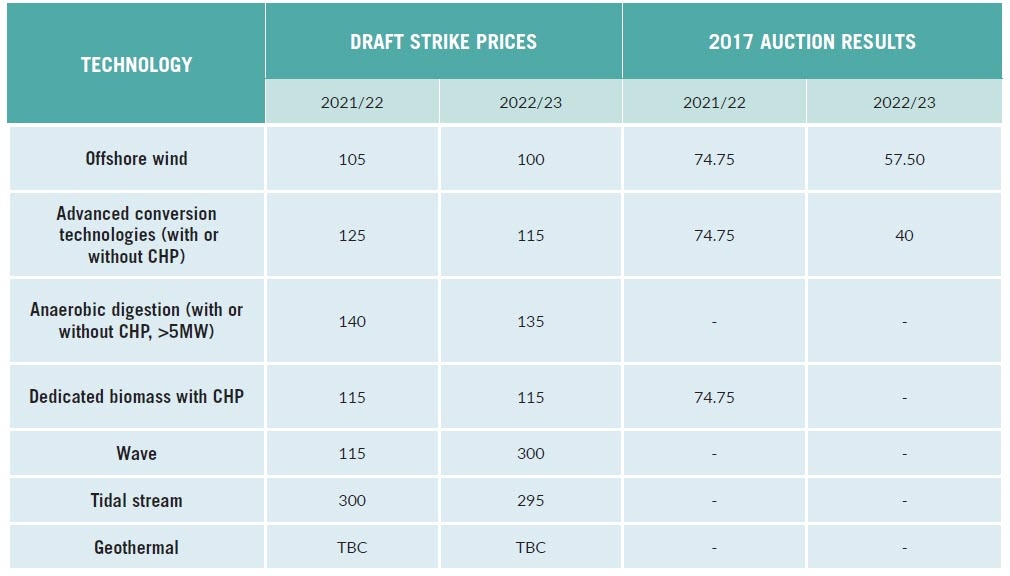 Scotland
Scotland has substantial ocean energy potential, with a third of the UK's tidal stream resources and two thirds of the UK's wave resources. It houses the flagship European Marine Energy Centre (EMEC) on Orkney and is home to Wave Energy Scotland (WES), the largest wave energy technology programme of its kind in the world.
The Scottish Government remains strongly committed to the development of a successful ocean power industry in Scotland and to maintaining its current strong lead by supporting research, development, innovation and demonstration projects. This was reiterated in the Scottish Energy Strategy, published by the Scottish Government in December 2017. The Scottish Energy Strategy also discussed the new short life industry working group, chaired by the Minister for Business, Innovation and Energy. The purpose of this working group is to agree five priorities to secure the future growth of the sector in light of changes in UK Government energy policies and EU exit.
The Scottish Government fund the Wave Energy Scotland (WES) technology programme with the purpose of supporting wave energy technology development. WES funds are committed through a series of strategically targeted innovation projects and research activities, securing intellectual property for the benefit of the industry and driving novel technology development. WES has developed a structured stage gate process for competitive development of wave technologies that provides developers with up to 100% funding through a procurement model. The programme operates a framework for assessing the performance of technology against set standards and metrics to provide transparency and risk reduction. WES is collaborating internationally to create an agreed set of these metrics and has also embarked on a project to introduce structure to the innovative process. WES has now committed £25.4m to 61 separate research projects and is working with 171 separate organisations over 11 countries. The organisation has recently awarded funding for landscaping projects in electrical connections and moorings and foundations, which will inform any future calls. These will be followed by investigations into the benefits of very large scale wave energy converters and alternative techniques for harvesting of wave energy.

Wales
In 2017, the Welsh government announced that they had set a target for Wales to generate 70% of its electricity consumption from renewable energy by 2030. In doing so, the Welsh government aims for Wales to become a clean energy centre and actively funds marine and renewables projects. In addition to the positive message given by the Hendry review on tidal lagoons, 2017 has seen the continued development of two test sites and a number of proposals for tidal stream and tidal range projects in Wales. Marine Energy Wales is a Welsh government supported initiative aiming to establish collaboration between developers, academia, the supply chain and the public sector. This is done through regular working groups, including sub-groups dealing with key consenting and research issues. The two ocean energy demonstration zones currently in development in Wales are supported by Marine Energy Wales. In 2017, the West Anglesey Tidal Demonstration Zone received £4.5m in EU and Welsh government funding to support the project consenting. development of a Welsh marine energy centre of excellence is also proposed, known as the Pembroke Dock Marine Project. Its aims are to convert an area of Pembroke Dock to a marine energy test area, wave energy demonstration zone and an engineering centre. The Marine Energy Test Area has received £1.9m in EU and Welsh government funding.
In 2017 Nova Innovation signed a lease for a 2 MW project at Bardsey Sound in North Wales. The Enlli Tidal Project has been awarded funding by the Coastal Communities Fund, and is currently going through the consenting process.

Northern Ireland (NI)
The NI Department of Agriculture, Environment and Rural Affairs is working to develop a Marine Plan for NI, with the aim of guiding the regulation, management use and protection of maritime regions. The report will consist of two separate sections for both the inshore and offshore regions and also include a Sustainability Appraisal. The NI Department for the Economy's 2017 Industrial Strategy also includes plans to develop a new Energy Strategy.
In 2017 DP Energy's Fairhead Tidal project submitted planning applications, with the first stage of the 100 MW tidal stream project aiming to begin construction in 2018. Regional development agency InvestNI continues to engage with the ocean energy sector with a particular focus on finding matches between the sector and the Northern Irish supply chain.

REGULATORY FRAMEWORK
The responsibilities previously held by DECC transferred to BEIS during 2016 while further work to devolve powers to the governments of Scotland, Wales and Northern Ireland went ahead. In April 2017, the Crown Estate's management duties in Scotland were transferred to the Scottish Government, as recommended by the Smith Commission and reflected in the Scotland Act 2016. Crown Estate Scotland (Interim Management) was formed on 1st April 2017. Crown Estate Scotland manages a diverse portfolio of property rights and interests including four rural estates in Scotland, around half the foreshore and the seabed out to 12 nautical miles(nm) (and renewable energy interests out to 200nm).

Management of seabed rights out to 200nm around Scotland is also vitally important to being able to sustain the competitiveness of Scottish marine industries and to continue to derive wealth from the marine environment.
PUBLIC FUNDING PROGRAMS
The Knowledge Transfer Network, operated by Innovate UK, maintains a wide-ranging and up-to-date listing of funding opportunities available in the UK. By far the majority of research and development funding for energy technologies can be found in this database, available at
https://www.ktn-uk.co.uk/
.
UK organisations which offer funding to ocean energy projects include:
Research Councils UK
The Research Councils UK Energy Programme provides funding for a wide range of technology areas, including marine, covering research and training. It brings together investments from across the UK research councils.
http://www.rcuk.ac.uk/research/xrcprogrammes/energy/
Innovate UK
Innovate UK is the UKs innovation agency and is an executive non-departmental body sponsored by BEIS. Innovate UK works with people, companies and partner organisations to find and drive the science and technology innovations that will grow the UK economy.
https://www.gov.uk/government/organisations/innovate-uk
Wave Energy Scotland
WES – fully funded by the Scottish Government – is taking an innovative and unique approach to the development of wave technology in a new research programme. WES brings together the best engineering and academic minds to collaborate on innovative projects that will accelerate the development of wave technologies and encourage the return of private investment.
http://www.waveenergyscotland.co.uk