OPEN SEA TEST SITES
France has several test centres fully equipped and grid connected, where projects have been and are about to be tested: Floatgen, a nearly assembled offshore wind turbine had its mooring installed this summer at SEM-REV on the west coast, offshore Le Croisic, ahead of the actual shore connexion. In addition, 3 wave energy demonstrators are planned to be tested next year.
At SENNEOH, a tidal test site in the Gironde Estuary in the city of Bordeaux, the first tests of the ¼-scale HydroQuest marine turbine will be hosted. Future plans include testing their technology at full scale next year at Paimpol Bréhat, a tidal test site operated by EDF in North Brittany. BREST Saint-Anne is a new test site for scaled projects where GEPS Techno thoroughly tested its multi-energy platform (PH4S pilot project integrating wave, wind, tidal and solar energy conversion systems) and where EOLINK plans to test a 1/10-scale floating wind turbine in 2018.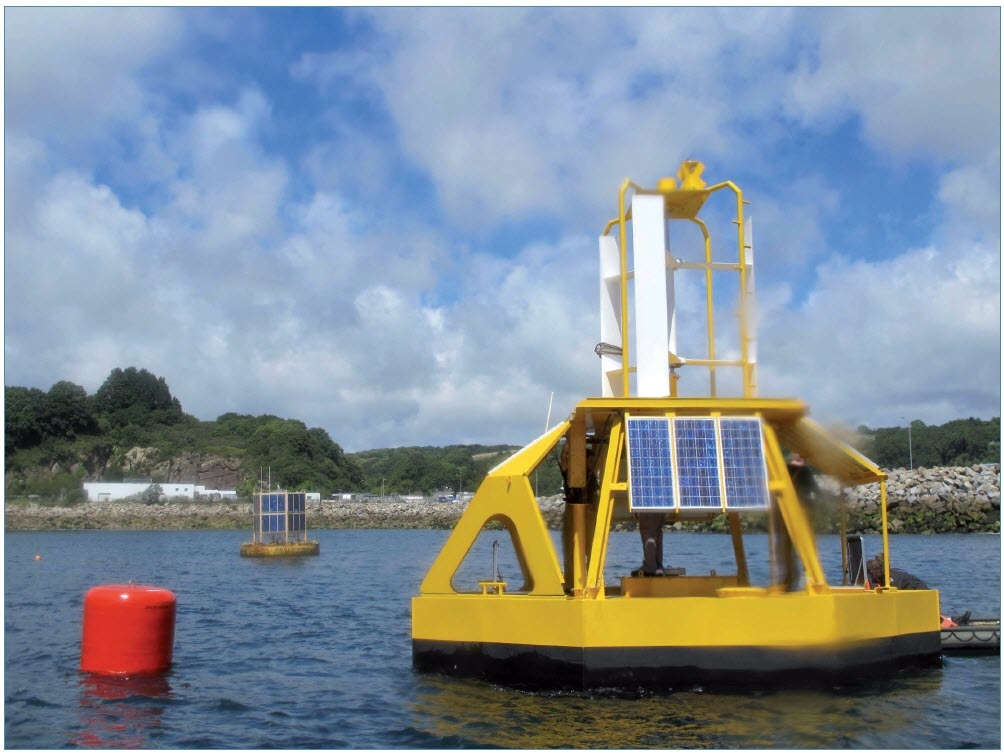 GEPS Techno PH4S prototype at Saint-Anne test site – Copyright Ifremer
PLANNED DEPLOYMENTS
Regarding the deployment of the Sabella tidal turbine at Ushant, and in addition to the ICE allowing the D10 demonstration to be continued, the PHARES project aims at implementing on this unconnected island a fully renewable production of electricity based on 2 Sabella D12 turbines (12 m diameter for a 2 MW capacity), 1 MW of PV, 1.5 MW from 1 onshore wind turbine and 2 MWh of battery storage.
The Normandie Hydro project plans to install a capacity of 14 MW with 7 tidal turbines operational in 2021. At a short distance in Cherbourg, Naval Energies launched in July of 2017, the construction of a plant dedicated to the assembly of 25 turbines/year.
Guinard Energies has proceeded to several operational tests at sea in Brest (Brittany) in 2017, with a 3.5 kW hydrokinetic device P66 (66cm diameter of the funnelled turbine) combined with solar panels and batteries. The complete power conversion chain has been tested and validated. Those first conclusive tests will be followed by a demonstration project in February 2018 on the Ria d'Etel site in Brittany. The system includes a complete off-grid scheme with solar panels and batteries, in order to confirm the power conversion flexibility and efficiency in harsh conditions. This demonstration will be followed by several P66 installation on- and off-grid through Brittany, French and overseas during the year 2018. The pilot site of Ria d'Etel will also be used for P400 (4 m diameter) demonstration.