CALL FOR PROJECTS: MARINE RENEWABLE ENERGIES INSTITUTE FOR THE ENERGY TRANSITION 2015
France Energies Marines, in cooperation with the National Research Agency, launched 21 successfully financed collaborative MRE R&D projects in the period 2015-2017. Below is a brief listing of the treated subjects in the projects started in 2017.
DiME - Dimensioning and met ocean: modelling and observations of extreme sea states for MRE
ABIOP- Accounting for biofouling through established protocols of quantification
MHM-EMR - In service health monitoring of MRE moorings to anticipate failures
POLYAMOOR - Durable and flexible polyamide moorings for MRE
SOLCYP+ - Monopile design for fixed offshore wind turbines, calculations for installation procedures
STHYF - Seafloor cable stability and hydrodynamics in strong tidal currents
GEOBIRD - Development of an innovative geolocation tag for seabirds
SPECIES - Submarine power cable interactions with environment

MaRINET2
Ifremer, Ecole Centrale de Nantes (ECN) and Oceanides are involved in the MaRINET2 project (http://www.marinet2.eu/), offering possibilities for technology developers to test their devices in recognized research facilities, including real sea test conditions. Under MaRINET2, calls are open to give developers the chance to access testing facilities in Europe free of charge. In the first call this year, 48 proposals were received from 21 countries. Support of €1.3 million has been awarded to 34 projects for free of charge access to testing facilities. The second call for proposals will open on the 15th of January, 2018.
| | | |
| --- | --- | --- |
| Ifremer and ECN have joined their efforts to set-up a grouping of scientific interest (GIS), named THeoRem, in order to create a National Research Infrastructure related to hydrodynamic testing facilities. The GIS was officially signed on 13 March 2017, between ECN and Ifremer bringing together a unique set of hydrodynamics facilities (3 test tanks and the SEM-REV open sea test site for ECN; 2 test tanks and the Saint Anne du Portzic test site for Ifremer). A dedicated website will be set-up early 2018 (www.theorem-infrastructure.org) | | |
EEL GEN project
The project, led by Eel Energy in partnership with Hutchinson and Ifremer, aims at developing a 1 MW tidal energy convertor using an undulating membrane. After having successfully performed a range of scaled model tank tests (at 1/20 and 1/6 scales), numerical modelling and material proofing, a prototype has been tested in Brest Harbour. The towed tests have been performed using the Iroise Mer - TSM Vessel Penzer. Results of the tests will feed the on-going development of the full-scale prototype.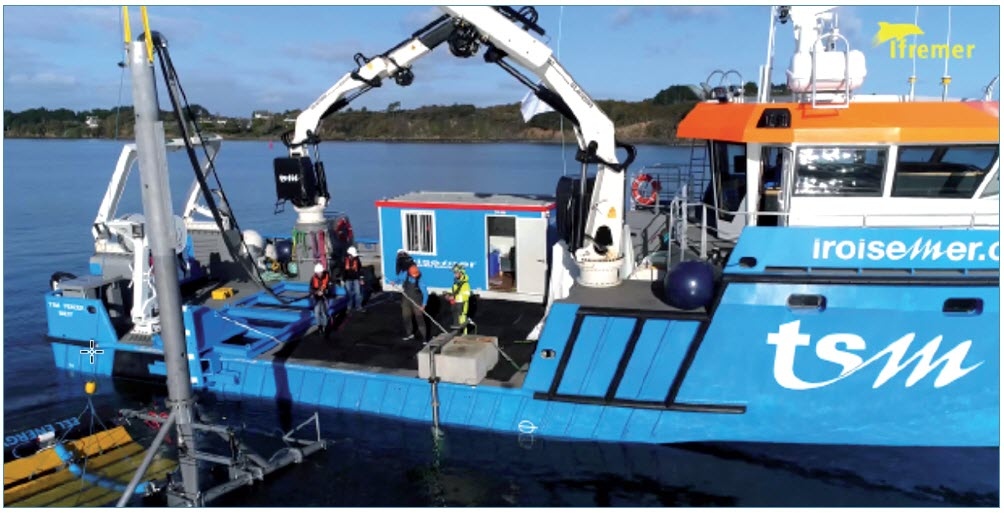 Set-up of the Eel Energy membrane for the tests in the Brest harbour – Copyright Ifremer
MET-CERTIFIED
MET-CERTIFIED aims to increase the adoption of insurable and therefore bankable marine energy projects in the European Interreg 2 Seas area (Southern North Sea and the Channel) through the development of internationally recognised standards and certification schemes in the sector. The project will be of big interest to many stakeholders involved in certification, from banks and insurers to consenting authorities, end-users, test facilities and classification bureaus.
The first experimental campaign (10 days of trials) has been carried out in the Ifremer wave and current circulating tank on a generic three-bladed horizontal axis tidal turbine at a scale of 1:20, for different flow speeds and turbulence intensity levels. The experimental set-up and protocols take into account the actual best practices and guidelines, in absence of standard protocols.
The publicized behaviour and performance (EWTEC 2017, Cork: Testing of marine energy technologies against international standards. Where do we stand ?, G. Germain & al.) allow to highlight some important points and procedures to focus on if the results from tank tests are to be exploited with confidence.

ICE
9 organisations from France and UK have partnered to tackle the challenge of energy vulnerability in areas located at the end of the distribution network and reliant on fossil fuels: the ICE project (2017 – 2020), "Intelligent Community Energy", is dedicated to improving, developing and promoting new, smart solutions for energy production, storage and consumption for an island or remote community. This project will be funded by the France (Channel) England Programme through the European Regional Development Fund (ERDF). In this framework, the D10 Sabella tidal turbine will carry on its demonstration installation at Ushant, an island at the western end of Britanny.