A new test site has been approved for ocean current projects, at Kagoshima Prefecture. In this site, IHI Corporation tested their 1:3.5 scale floating ocean current demonstration project called "Kairyu" (a twin rotor 100 kW turbine), during 2017. There are plans for continuation and a 2 MW floating device has been designed to be deployed at 200 – 1000 meters water depth (50 meters below the water surface).

Mitsui Engineering and Shipbuilding entered into a lease agreement with Ocean Power Technologies for the installation and demonstration of a PB3 PowerBuoy. The wave energy convertor was deployed off Kozu island for extended testing during 2017.
Wave Energy Technology conducted demonstration trials on its scaled floating wave energy prototype off Kobe city in Japan. The 1.4 meters in diameter device demonstration was conducted and is leading towards the development of a up to 1.2MW commercial-scale unit.
Future projects include the MOE sponsored tidal turbine installation off the Goto Islands, Nagasaki Prefecture. A single Open Centre turbine supplied by Naval Energies is planned for deployment in 2019-2020 working in partnership with local partners Kyuden Mirai Energy Co., Inc, Nippon Steel & Sumikin Engineering Co., Ltd., and NPO Nagasaki Marine Industry Cluster Promotion Association.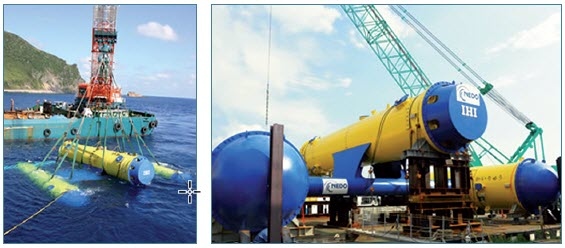 Source: IHI Corporation and NEDO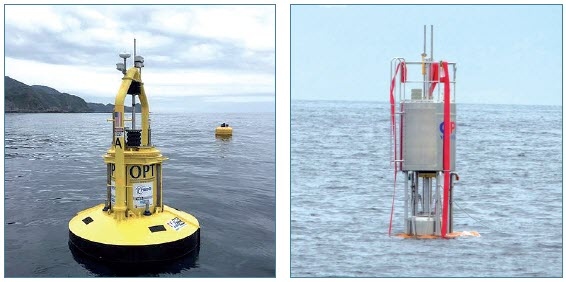 PB3 PowerBuoy deployment Wave Energy Technology deployment
Source: Ocean Power Technologies, Inc. Source: Wave Power Technology