TECHNOLOGY DEMONSTRATION

OPEN SEA TEST SITES
Ireland has a unique ladder of development and test site infrastructure, allowing developers to move from laboratory test facilities at the Lir National Ocean Test facility in Cork, to a quarter scale test bed in Galway Bay and to a full test facility at the Atlantic Marine Energy Test Site (AMETS) near Belmullet, Co. Mayo. Significant steps were taken to further develop these facilities in 2017.
Galway Bay Marine and Renewable Energy Test Site
Ireland's ¼ scale ocean energy test site is located within the Galway Bay Marine and Renewable Energy Test Site and is situated 1.5 km offshore in water depths ranging from 20 m – 23 m. The site has provided test and validation facilities for a number of wave energy devices and components to date. The SeaPower platform, a quarter-scaled wave energy converter, was successfully deployed to the site between November 2016 and March 2017. The scaled wave energy converter produced both energy and survivability data during that time.
November 2017 saw the successful testing of the Acoustic Array System, design for deployment at the test site. This equipment was produced through the Acoustic Monitoring project, a multi-disciplinary research and development initiative led by SEAI and supported by the Marine Institute and running since 2012. The Acoustic Array System comprises of multiple sensors in an array and it is intended to be placed in the vicinity of a wave energy converter to quantify the noise emitted by the device.
Activity at the site was somewhat limited in 2017 due to unforeseen delays in granting an updated foreshore lease for the site. However on December 19th the Department of Housing, Planning and Local Government announced that the foreshore lease for Galway Bay Marine and Renewable Energy Test Site had been renewed. Under the conditions of the new lease, three marine renewable energy test devices can be deployed at the test site for a duration of up to 18 months, with the exception of floating wind devices which may only be deployed for 12 months. As a condition of the lease the Marine Institute will appoint a community engagement officer to liaise with the local community regarding on-going operations at the site and will provide an information centre in the vicinity of the test site.
Atlantic Marine Energy Test Site (AMETS)
SEAI is developing the Atlantic Marine Energy Test Site (AMETS) to facilitate the testing of full-scale ocean energy converters in an open ocean environment. It is located off Annagh Head, west of Belmullet in County Mayo, and will be connected to the national grid. AMETS will provide for full-scale test opportunities in extreme Atlantic conditions and is intended as the ultimate test site for pre-commercial stage devices.
AMETS will be focused on the development of wave energy convertors and will provide two separate test locations, at 50 m and 100 m depths to allow for a range of devices to be tested. The site will be grid connected and will allow for 10 MW of production.
A foreshore lease for the test site has been awarded after going through the necessary consenting and environmental monitoring processes. Planning permission for onshore aspects of the site have also been secured and grid connection work has commenced. Currently preparation is being made for a substation build, as well as development of multiple cable routes connecting to both the testing berths.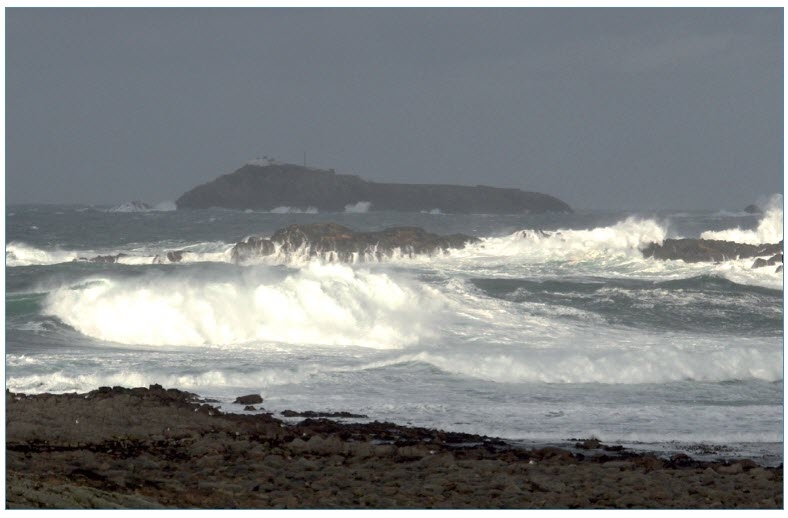 Belmullet coastline, Co. Mayo


PLANNED DEPLOYMENTS

GKinetic Ltd. is a Co. Limerick based developer of a submerged tidal energy device composing of twin, multi-bladed, vertical axis turbines mounted either side of a tear drop shaped 'bluff body' that will be moored to the seabed. The concept has undergone staged development, in line with industry best practice. Previous testing has been undertaken at NUI Galway, the IFREMER flow tank facility at Boulonge-Dur-Mer in France and numerical modelling for design optimisation. GKinetic conducted a series towing tests of a 1/10th scale version of the turbine system in Limerick Docks in late 2015 in order to understand and assess the performance of the technology, and will re-deploy in 2017 for more advanced testing. In August 2017, GKinetic carried out tests on an improved prototype in the Limerick docks for a period of six weeks. The devices newly improved PTO system and blade performance were monitored with important data gathered.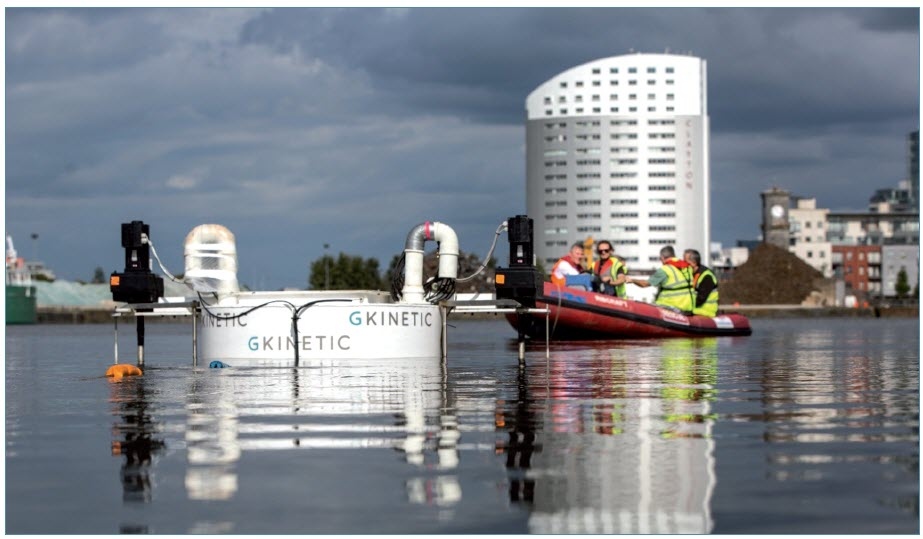 GKinetics 1:10 scale model being tested at Limerick Docks
SeaPower Ltd. is a Co. Sligo based R&D and engineering company who have developed a wave attenuator device called the SeaPower Platform. Since its conception in 2008, SeaPower have progressed from numerical modelling and design, to tank testing in Cork, and now to the open sea Galway Bay Marine and Renewable Energy Test Site. The company have received support from the SEAI Prototype Development Fund throughout its development, and the current project saw the device deployed to the quarter-scaled Galway Bay test site from November 2016 until March 2017. Since deployment, the company have been continually receiving wave energy data and assessing survivability
in open sea winter conditions. With the renewal of the lease for the Galway Bay Marine and Renewable Energy Test Site testing will continue in 2018.

SeaPower Platform at Foynes Port, Co. Limerick in 2016 (Left). SeaPower Platform being towed
to the Galway Bay test site in 2016 (Rigth).


OE Bouy plan to test a half scale model in US Navy WETS facility in Hawaii in September 2018. The project is co-funded by both SEAI and DOE in the US. The project has been in place since 2016 and up to now has focussed on the design of the technology and planning for transport and access to the site. It is stage/phase 4 of the Development & Evaluation Protocol for Ocean Energy technology, the prior stages having been completed with financial assistance from the Marine Institute, Enterprise Ireland, EU funding and SEAI. The prior stage included a number of deployments at the Galway Bay Quarter Scale test site – during which the device accumulated over 24,000 hours of open water testing.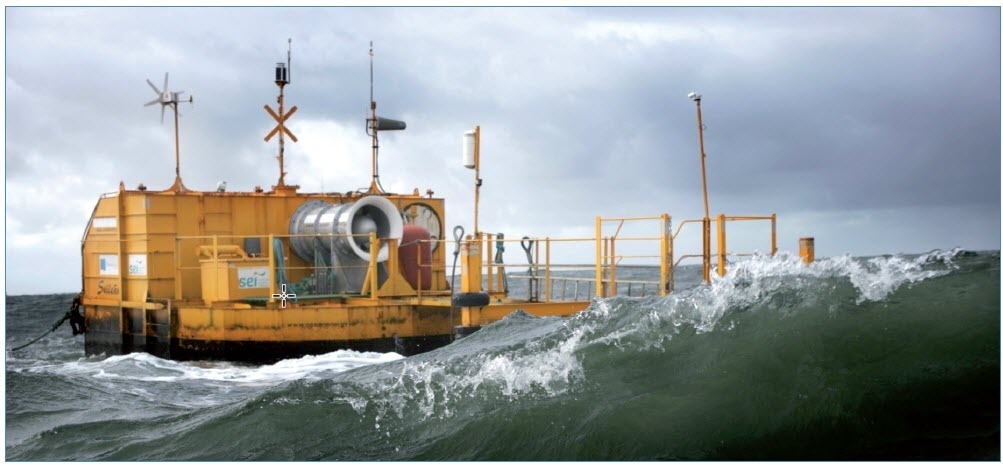 Ocean Energy Buoy in Galway Bay Marine Renewable Energy Test Site
ESB's WestWave project aims to develop a 5 MW wave energy project off the west coast of Ireland, at a site near Killard, Co. Clare. The current phase of the project is developing the foundations for this project to allow the capital investment and procurement phase. Ongoing activity includes to securing the required permits, conducting site investigations, including detailed wave measurements, and to developing the design and functional specification of the project. It is anticipated that applications for the site's Foreshore Lease and onshore planning permission will be lodged in 2018.