Dr Purnima Jalihal and Mr. PRASAD Dudhgaonkar
National Institute of Ocean Technology (NIOT)

RESEARCH & DEVELOPMENT
The National Institute of Ocean Technology, under the Ministry of Earth Sciences, carries out research and development activities related to ocean energy. A few academic institutions like the Indian Institute of Technology Madras and the Indian Institute of Technology Bombay are working on wave energy.

WAVE ENERGY

As part of the efforts to install a floating wave powered device to power loads or to meet the lighting requirements of coastal areas of remote locations, NIOT has been working on Oscillating Water Column (OWC) principle based wave energy devices such as Backward Bent Ducted Buoy (BBDB) over the last few years. Recently, NIOT has developed and tested a wave powered navigational buoy off the coast of Chennai. This buoy is sized for meeting the power requirements of a beacon lamp and will be used to mark navigational channels in ports and harbours. The total cost of this indigenously developed buoy is less than those available in the market. This buoy was formally launched on 13 November 2017 on the sidelines of the IEA-OES Executive Committee meeting held in Chennai.




Testing of NIOT's wave powered navigational buoy near Kamarajar Port, Chennai
An oscillating air flow test rig for testing wave energy turbines has been set up at the Indian Institute of Technology Madras with funding from NIOT. The rig is equipped with state of the art instrumentation and data logging system and can be used for turbines with maximum capacity of 1 kW.

ENERGY FROM OCEAN THERMAL GRADIENT
As a part of the activities related to Ocean Thermal Energy Conversion (OTEC), NIOT has set up a state of the art laboratory for carrying out studies on various components of OTEC and Low Temperature Thermal Desalination (LTTD). This facility is located inside NIOT campus in Chennai. The test setup is equipped with seawater pumping and storage system with capacity of 60 m3. Requisite surface sea and deep sea temperatures are maintained using oil fired heater and chiller. Studies on LTTD, open cycle OTEC and closed cycle OTEC can be carried out in this test setup along with combinations of them. The process equipment for this setup has been indigenously developed, and that includes a turbine for closed cycle operating with the R134a fluid and a turbine for open cycle operating with flashed steam. The facility was inaugurated on 13 November 2017 on the sidelines of the IEA-OES Executive Committee meeting held in Chennai.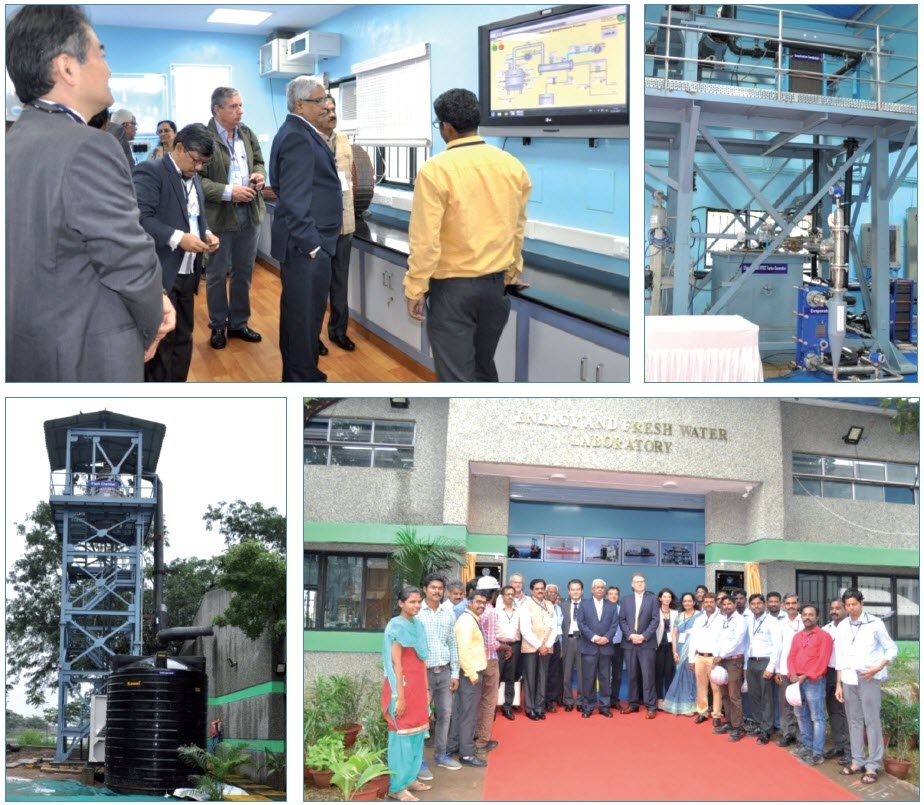 OTEC Desalination Laboratory at NIOT, India